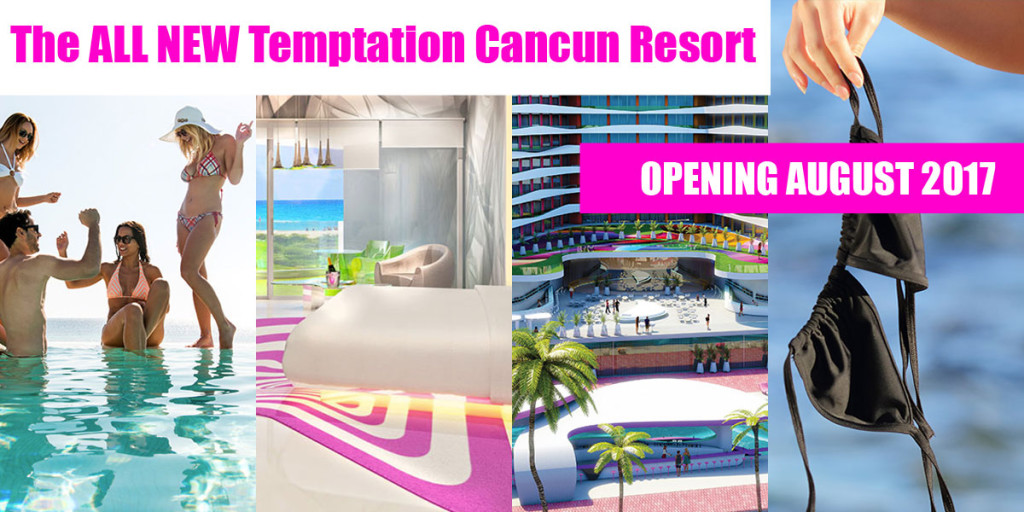 Temptation Resorts Answered Frequently Asked Questions Regarding the New Renovations at Temptation Cancun Resort on their Blog
Posted by Angela
Many of our guests, past, present and future, have several questions regarding what to expect at the "New Temptation". One of the most frequently asked questions is "Will Temptation Cancun Resort have a different concept?" The answer is no! Temptation always has, and will continue to be, the #1 adults only, all-inclusive, topless-optional resort in Cancun, with a sensual vibe that distinguishes us from the rest. However, this unique transformation will be characterized by cutting-edge entertainment, innovative shows, state-of-the-art performances, as well as many other surprises, to complement our already sexy, sensual, adult concept, giving it a whole new, fresh perspective.
Also, many are curious to know what new features and facilities will be offered? Temptation was designed keeping our guests' comfort in mind at all times, allowing us to cater to their every need.  We have adopted a defining philosophy, "Whatever, Whenever," so that all guests are assured to have "Whatever" they want "Whenever" they need it.  There are too many ingredients that comprise this multi-million-dollar extreme makeover, but we want to give you a small taste of what you can expect.
430 Signature guest rooms & suites by "Karim", which have been divided into 7 exclusive room categories.
6 Restaurants, 1 Snack Bar & 1 Coffee Boutique offering 24-hour food and beverage service.
All-new Signature Aphrodisiac restaurant
5 Bars including the all new Roof Top Bar "Suite 3.5"
Cutting-edge entertainment including: signature pool parties featuring headliner DJ's & Live music, after hours' parties, fashion shows, shows, performances, theme nights and the list goes on and on…
All-new "Fantasy Menu"
Pool Butlers
Spa Sensations
Ultimate generation gym with full-time instructor
The "NEW" Temptation is a way of life, an experience!
And for those of you who were wondering if Temptation Cancun Resort is going to be completely or partially renovated, you can be rest assured that it will be nothing less than spectacular! Temptation is taking it all off & putting on an all-new, sensual & chic outfit.  This is a complete, multi-million-dollar makeover, providing our guests with state of the art, designer rooms & suites, new, exclusive areas for your enjoyment, a party arena, amplified pools, new dining options and much, much more…
Be one of the first to stay at the new Temptation Resort Cancun! Request a Quote or Book Your Own