Hidden Beach Resort – Luxurious, yet simple. Distinguished, yet welcoming. Welcome to Hidden Beach, the only 5 Star, adults-only nudist resort in Mexico. With 45 beachfront suites only one hour and a half south of the Cancun Airport, Hidden Beach is a gem waiting to be discovered. Hidden Beach has designed the most sumptuous Gourmet Inclusive® resort with a blend of unmatched signature services, allowing you to release your stresses, and relax in blissful confidence.
Perfect for
Clients looking for more upscale dining and accommodations, and a more laid-back atmosphere, as opposed to a full-on party. Hidden Beach Resort caters to nudist travelers, but you will find lifestyle guests as well.
Interested in Hidden Beach Resort Riviera Maya Mexico? Request a Quote or Book Your Own

Our client comments
Lisa
from aberdeen, sd.
"Hidden Beach was terrific!   We loved every minute of it…The service was top notch and from the minute we walked in, we had everything we needed.   They asked our name once, and the rest of the 10 days we were there we were called by our names for food service and bar service!… Full comments and additional client comments
Why book Hidden Beach with us?
Our services are free
We love free stuff, and we are sure you do as well! What we don't have a lot of is free time. So, why spend all the time and energy researching and booking your vacation when we will do it for you? We search all suppliers to find you the lowest price possible. We are experts in the industry and have the resources to help make sure you find what you are looking for in a clothing optional vacation. We have personal contacts at the resorts, and they love to ensure GoAwayNude.com clients enjoy their vacations! We are there for you, before, during and after you travel. If you have ever booked with those giant online travel sites that do all the advertising, you know that's not the case. Book with us, so you can just relax, and let it all go…including your clothes.
GoAwayNude.com Agent Insider Tips for Hidden Beach Resort
Tip 1 – At Hidden Beach Resort, if you want to try something that isn't on the menu, just ask! They may be able to accommodate you or create something that you will enjoy. Talk about being flexible.
BONUS – If you book your vacation with us, you will receive a full list of our GoAwayNude.com Agent Insider Tips for Hidden Beach Resort just like the one above.
VIP Treatment
When you book your vacation to Hidden Beach Resort through GoAwayNude.com, the resort will know that you have booked through one of their top producing agencies and a member of their exclusive GIVC program. It's ok to receive a little extra care when you are on vacation, enjoy it!
Interested in Hidden Beach Resort Riviera Maya Mexico? Request a Quote or Book Your Own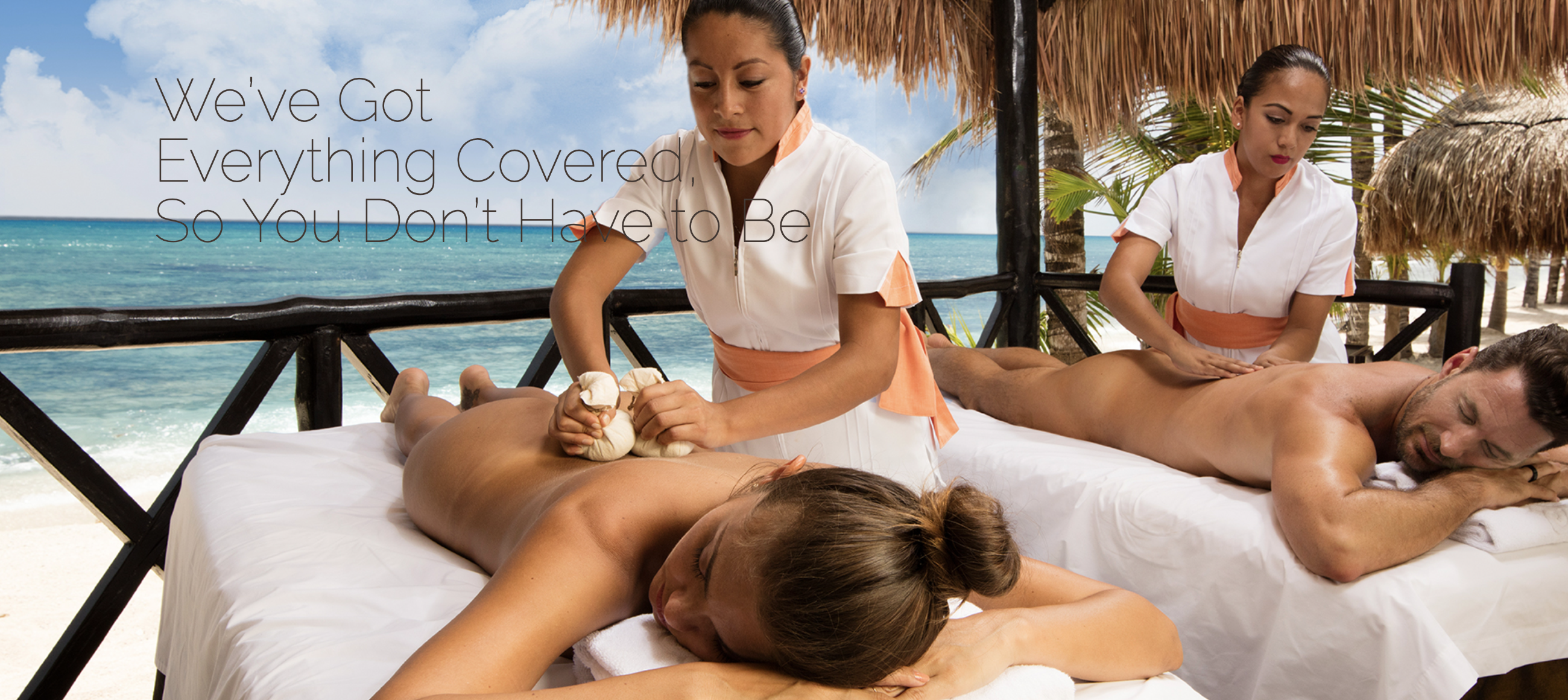 Hidden Beach Resort Details
Hidden Beach is the chance to let down your hair, release your worries, and enjoy the beauty of the Caribbean with complete ease. Designed for nudists and those daring to experience the ultimate freedom of nudity, Hidden Beach prides itself on maintaining accepted naturist etiquette. Enjoy all facilities, all activities, and all dining in the nude. Shed your every inhibition, and step into the freedom of Hidden Beach.
What's included at Hidden Beach?
Accommodations as selected
Welcome glass of champagne
All meals and Gourmet Bites
Alcoholic and non-alcoholic beverages from a selection of domestic and international premium brands
Mini-bar with beer, water, and soft drinks refilled once a day
Daily and nightly activity program
Full-service concierge
Non-motorized water sports: paddleboats, kayak and snorkeling gear
Scuba clinics in the pool
Hospitality Desk
Taxes and gratuities included
Live music and shows
Fitness center
24-hour room service. Restrictions apply on rainy days
Free wireless Internet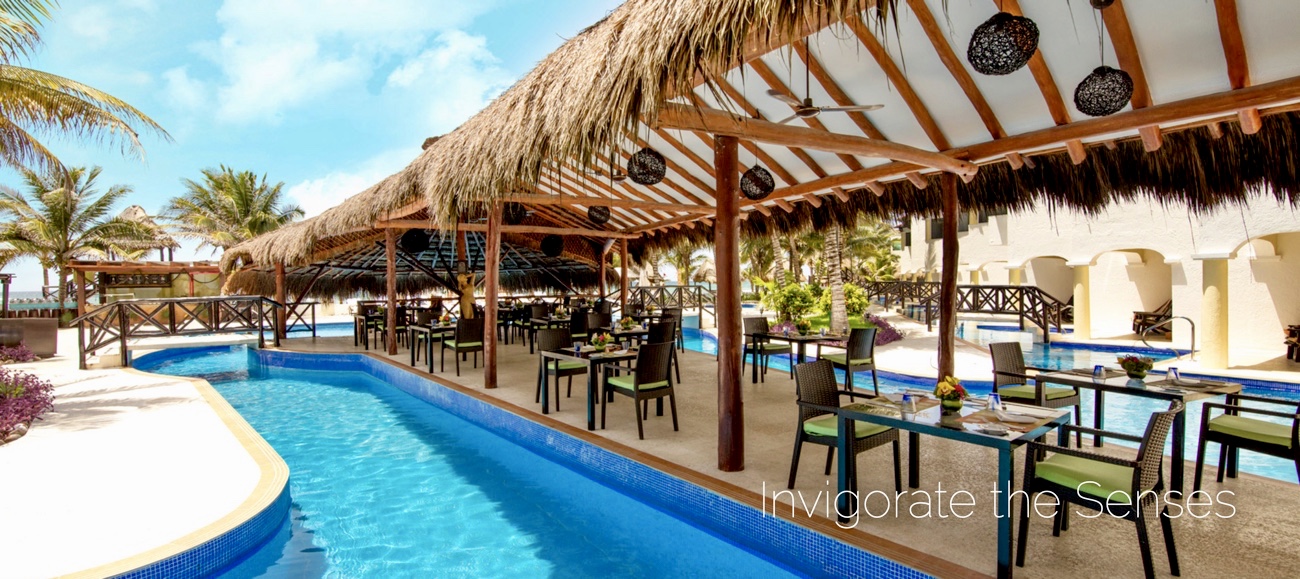 Dining
You are free to dine without clothing at Hidden Beach. Some guests will wear various amounts of clothing, maybe just a cover-up, or some in full resort type evening attire.
This isn't your typical all-inclusive dining experience. Truly an exercise in tasteful nudity, the Karisma Gourmet Inclusive® Experience at Hidden Beach Resort is an opportunity to savor artfully prepared cuisine – crafted from the finest, freshest ingredients – without having to dress for dinner. Whether you choose to dine à la carte at La Vista restaurant, al fresco on the terrace, by candlelight on the beach, or in the privacy of your suite, every meal is a feast for the senses, and a dress code will be the furthest thing from your mind. The resort also boasts skilled mixologists, who are always happy to whip up your favorite cocktails.
For something a little more formal, guests of Hidden Beach are always welcome to dine at neighboring AAA Four Diamond El Dorado Seaside Suites, which is home to a variety of world-class restaurants and bars of their own. All we ask is that you dress appropriately.
Accommodations

OCEAN FRONT JACUZZI JUNIOR SUITE
Style and comfort come together to give you a spacious retreat that's as relaxing as it is invigorating. The lush linens and bedding caress your body while the tropical views and gentle breeze ignite your passion. No matter which suite you choose, you'll enjoy an ocean view, a King-size bed, a romantic Jacuzzi® for two, and 24-hour room service. These suites are located on the second and third floor, and many come with a large balcony.
Max Occupancy: 2 Adults
Size: 387.5 Ft²/ 36 Mt²
OCEAN FRONT DOME SUITE
The Caribbean is your backdrop in these beautifully appointed dome suites. The high ceilings and majestic dome style windows allow you to see more of the stunning scenery, while still delivering the luxurious appointments.
Max Occupancy: 2 Adults
Size: 387.5 Ft²/ 36 Mt²
OCEAN FRONT SWIM UP JACUZZI JUNIOR SUITE
The private terrace is just the beginning of your tropical adventure in this amazing suite. Situated in the heart of the exotic gardens, you'll find yourself surrounded by the lush tropical landscape and connected to the pool's lazy river and in-pool bar and seating area. Turn up the heat at the beachfront hot tub and just kick back and enjoy the views.
Max Occupancy: 2 Adults
Size: 333.6 Ft² / 31 Mt²
ONE BEDROOM PRESIDENTIAL BEACHFRONT VILLA
Unmatched elegance. Unprecedented space. Unforgettable views. Welcome to the only au naturel seafront villas with sumptuous and breathtaking panoramic views of the Caribbean. Each villa has its own personality, its own design, but a shared sense of luxury. Cool off in your own private pool, grab a drink from your marble bar or snuggle up on your private beach bed. When you're not pampering yourself with the luxurious amenities and our famous outdoor shower "Aguas del Amor," a butler will help you indulge in a variety of services.
Interested in Hidden Beach Resort Riviera Maya Mexico? Request a Quote or Book Your Own